USB SKYPE™ Handset Without LCD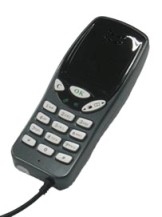 LCD Screen: No
USB Port: 2.0
USB Driver: Built-in
Sound Card: Built-in, 16 bit
Colors: Black
Weight: 0.15kg (with packaging)
Dimension: 12.8×4.5×1.9cm (L x W x H)
Regulatory: N/A

1. Plug and play. No device driver required for Win 98 SE/Win ME/Win 2000/Win XP.
2. Ringing for incoming calls.
3. High quality, noise cancelling microphone.
4. Support Skype, X-ten, X-Lite, X-Pro, MSN Messenger 6.2, Net2Phone, StanaPhone, SJPhone, eyeBeam.
5. For other VoIP service providers, a Software Development Kit (SDK) is available to integrate USB 200A with your service.